Sunday, 15 November 2020 at 3PM
Following a huge performance in Croke Park on Saturday evening Kilkenny were crowned Leinster Champions for 2020. The game was tight for large parts but heading in to the final quarter Galway looked to be in control, ahead by five points but in a battling closing ten minutes saw Kilkenny clawed back that lead and went ahead just as injury time beckoned.
For the first time since 2016 the Bob O'Keeffe Cup is sitting on Noreside and an All Ireland S/F awaits in Croke park in two weeks time.
For match report click here (Kilkenny People, Robert Cribbin)
For pictures click here (Willie Dempsey)
Friday, 13 November 2020 at 4PM
The Kilkenny team that will line out in tomorrow's Leinster Final Vs Galway has been named.
The game has a throw-in time of 6.15pm and will be live from Croke Park on RTE.
Click below for full team details.
Sunday, 01 November 2020 at 12PM
Kilkenny have secured a Leinster final spot against Galway following a 3-20 to 2-22 victory against Dublin in Croke Park on Saturday evening. Kilkenny started slowly but following two goals mid-way throught the first half, looked in control with the scoreboard reading 3-13 to 0-7 at half-time.
On the restart the game followed a similar pattern as the first half but in the final quarter Dublin drove at Kilkenny and got maximum return for their efforts and with the game in the melting pot, up stepped Huw Lawlor to claim victory with the winning point in additional time. Game over, plenty of lessons learned, onward and upward to the Leinster final in a fortnights time.
For match report, click here. (Kilkenny People, Robert Cribbin)
For photos, click here. (Willie Dempsey)
Friday, 30 October 2020 at 4PM
Brian Cody and his management team have named the team that will face Dublin in Saturday's Leinster S/F in Croke Park 3.45pm. Click below for team details.
This years championship may have been held up due to COVID-19 but there is no doubt that this championship will spark to life quickly. To view Saturday's game supporters will have to access GAAGO, see previous post on this website about how best to do that. The game will also be carried live on KCLR, with updates on Kilkenny Community Radio.
Thursday, 10 October 2019 at 8PM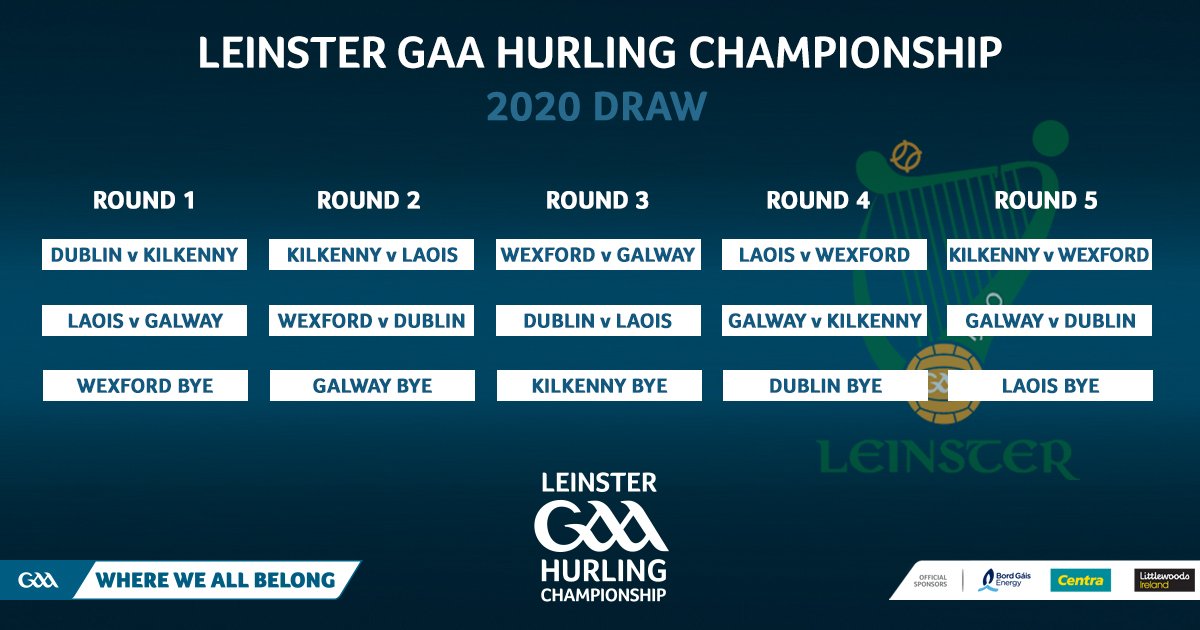 The draw for the 2020 Leinster GAA Hurling Championship was completed on Thursday and it sees Kilkenny's campaign open with an away game against Dublin, this is followed with a home game against Laois in round two. Kilkenny will have a bye in round three and will then face Galway away in round four, followed by a home game against Wexford in the fifth and final round.